Portrait of Che Guevara
Stylised illustrated potrait of famous photography by René Burri, 1963. Commissioned work.
Bar Che, Sunny Beach (Bulgaria)
2019.
Wall project for Forza Consulting
Forza Consulting Sofia office refreshed their conference room with some customised drawings. Turning their office into creative space using quotes by the team members and doodles reflecting their interests.
Commissioned work.
2019.
All I need
Illustration of woman's needs. I is also written as an exclamation mark in order to put focus on "I" in connection with self-less behaviour of women. Also published on Instagram here.
2019.
Mental health care
A simple illustration of mental health care. The hand is a symbol of care and the brain inside - for the mental health, that is also supported by the colour code.
2018.
Boyana church
Illustration of Boyana church (first built in 10th Century), Sofia.
2018. Personal work.
Content creation
Illustrating the process of content creation.
2018.
Photo taking
A very simple illustration of photo taking.
2018.
Flipflop Portraits
For their 5th birthday, at flipflop we made a poster with portraits of the amazing people working and helping the bar. Here are 4 of them.
2018.
Nomadways' Homade Doodle
We created a crowdfunding campaign in August 2017 - its main artwork were the facilities we plan to build with the money raised. So, I drew the barn that we're renovating and also the things we want to created. Here are them all.
Idea: Alexandra Nikolova & Anne Merlin
Drawing: Alexandra Nikolova
2017.
Happy Social Circus Day
Yep, at Nomadways we have a tradition to create a doodle on special occasions. This one is about social circus - something that we find really important, because helps millions of children at war to survive mentally, to find joy in impossible situations.
Idea and drawing: Alexandra Nikolova
2016-2017.
Happy Birthday, bar FlipFlop
Earlier this year my beloved bar flipflop turned 4. With the team we wanted to create a funny poster, as the whole branding is very casual and smart. So, that's what I came up with.
Idea and drawing: Alexandra Nikolova
2017.
Freddie
Illustration of my favourite voice in the whole history of music - Freddie Mercury. In the series of posted "Men can ... too".
2018.
Frida Kahlo
This illustrated poster was inspired by the life and work of world-famous artist Frida Kahlo and a lovely poster made by Polish artist Jan Bajtlik.
2018.
Sacred deer
Experimenting with geometric art these days - this is my version of absolute classic, a deer.
2018.
Happy Europe Day
Doodle for Nomadways' online celebration of Europe. These funny characters are holding the 12 stars that are featured on European Union's logo.
Idea: Alexandra Nikolova and Anne Merlin
Drawing: Alexandra Nikolova
2017.
Sofia As A Person
My illustration of my home city Sofia, part of the project "City as a person". See it here.
2017.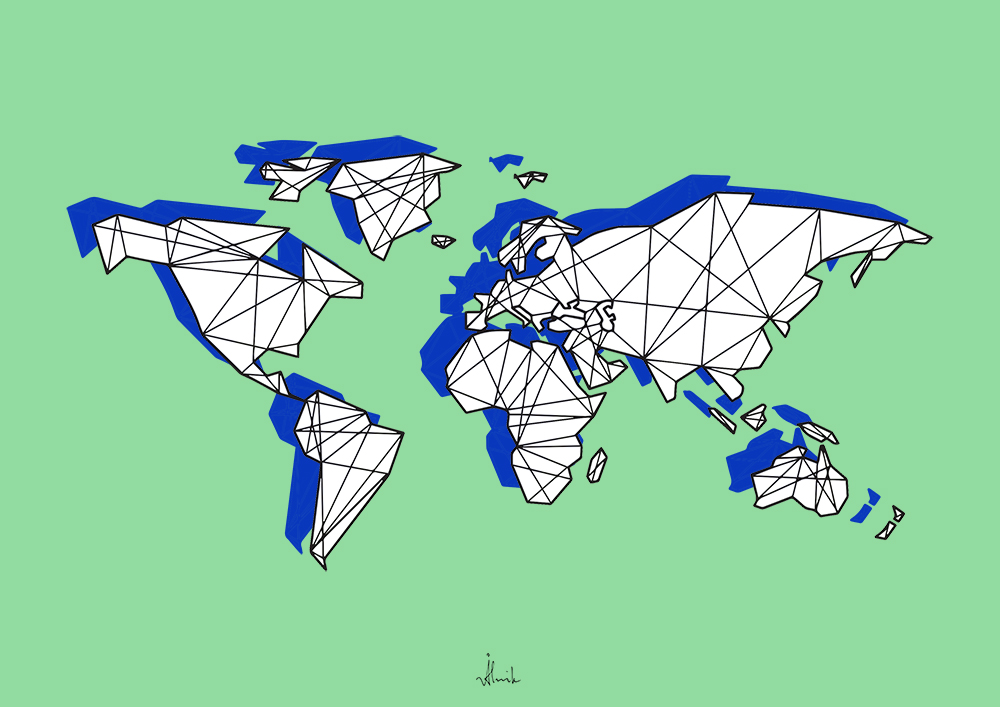 Flyer illustration & design
I drew and designed this little facebook event cover for an upcoming music party by me.
2018.
Flat Earth Society - Banana Llama
After seeing tons of funny articles and memes about the supporters of the "theory" that the Earth is flat after all, I was inspired to do this little series of "Flat Earth Society" with these animals, beasts and creatures who truly support the idea. Meet the first one, Banana Llama. Vote for him!
2017.
Bar FlipFlop mobile menu
Sometimes bar flipflop takes a walk and pours drinks in other places - like festivals! In those cases they get a menu likes this, a bucket full of ice and make people enjoy the menu on the go.
Idea and drawing: Alexandra Nikolova
2017.
Flamingo in straight lines
Another experiment with geometric art.
2018.
Oryx
No wonder why these marvellous creatures inspired the ancient Egyptians to draw them..
2018.
99 Creatures
i very much enjoyed drawing sketches in my notebooks back in school. Later in high school I created number of comic books and many of my friends there were reading and following the storylines. For some reason all of that was lost in the past and after finishing school I got caught up in working quite a lot.
That's why I started the challenge of 99 creatures: to remember those days. I had to create 99 characters in 99 days. These are 5 of them. Here are all of them.
Idea and drawing: Alexandra Nikolova
2014.
She
Abstract drawing. Just for fun.
2016.
Hand Drawn Set of Doors
More doodling. Need some doors? Here they are!
2017.
Samar
While doing our Nomadways workshop 'Subjective Mapping', Anne's cat (Samar) was an inhabitant of Homade. This is a quick drawing of him.
2017.